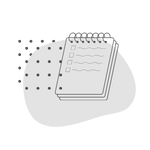 We start always with listening – to the users, customers, business stakeholders and their needs.
We study data, real life people, competitors and industry space to gather insights, gaps and opportunities.
From the insights, we collate and image the experience that we are looking to build.
This is followed by quick prototype or MVP and we test it with business owners & customers.
So, we move ahead with a solution that already has users engaged, is tested with customers, and go on to have collaborative sessions..
This agility enables us to market quickly, test frequently, develop iteratively and deliver successfully in phases.